New Delhi: Team India is struggling to qualify for the final of the World Test Championship (WTC Final). While on one hand the Indian team is playing the fourth Test against Australia in Ahmedabad, on the other hand Sri Lanka's first match against New Zealand has started. Australia has already qualified for the final, so there is a tough fight between India and Sri Lanka for a place in the final.
India's victory will give entry in the final
Although a victory of Team India will give an entry in the final, but with the Ahmedabad Test, there is also a big concern that if India does not win this match, then it will be affected by the results of the ongoing two-match Test series between New Zealand and Sri Lanka. Will have to depend on. The special thing is that Team India can qualify for the final despite a draw or defeat in the fourth Test and Sri Lanka's 'one win'. Let's know what equations are being made for India's WTC final.
Stumps on Day 1️⃣ of the Fourth #INDvAUS Test!

2️⃣ wickets in the final session as Australia finish the opening day with 255/4 on board.

We will be back tomorrow as another action-packed day awaits💪

Scorecard ▶️ https://t.co/8DPghkx0DE#INDvAUS | @mastercardindia pic.twitter.com/hdRZrif7HC

— BCCI (@BCCI) March 9, 2023
Only one victory of Sri Lanka will benefit India
Talking about the points table, Australia is on top with 68.52 points percentage and 148 points. India is in second place with 60.29 points percentage and 123 points. Whereas Sri Lanka has 53.33 points percentage and 64 points. The real danger to India is from Sri Lanka. If Sri Lanka wins both the matches against New Zealand, it will book a ticket to the final, while a win in 'just one' will see it out of the final. In such a situation, India will qualify for the final. Now only four matches are left under WTC. Two matches are between New Zealand-Sri Lanka, while one match is between India-Australia and one between South Africa-West Indies.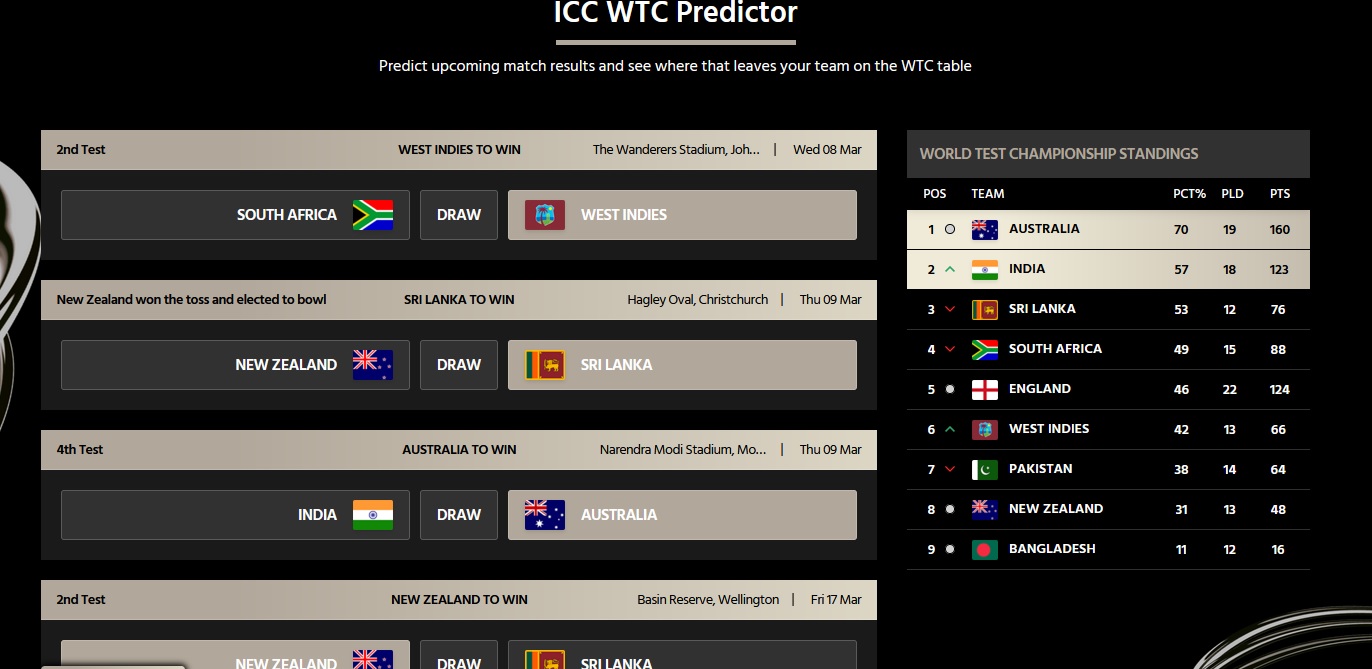 India will qualify even if Sri Lanka draws a match
According to the ICC predictor, if the India-Australia fourth match ends in a draw or a defeat for Team India and Sri Lanka wins only one of the two matches, then India will qualify for the final. To understand in simple language, despite India's defeat in the fourth match, Sri Lanka's defeat in one match or a draw in one match will decide the way to the final for India. The match between South Africa and West Indies will not have any effect for India.
In such a situation, after a draw or defeat in the fourth match, India will have to hope that Sri Lanka also plays a defeat or draw against New Zealand. Although there has been only one day of the fourth Test in which Australia has scored 255 runs losing 4 wickets and is in a strong position. In such a situation, it would be meaningless to say that this match will end in a defeat or a draw, but anything can happen in cricket at any time. If this match of Team India ends in a draw or defeat and if Sri Lanka wins both the matches then it will qualify for the final with points percentage. It will be interesting to see what Sri Lanka does.