Vande Bharat Train: Stones were pelted at Vande Bharat Express train in Kerala. According to reports, the stone pelting took place when the train was passing between Thirunavaya and Tirur in Malappuram district. This incident took place on Monday evening around 5 pm. Railway officials have informed the police.
Malappuram police say that the glass of the train was damaged due to stone pelting. However, no one was injured in the stone pelting. A campaign has been launched to identify the miscreants. The train has completed its journey up to Thiruvananthapuram.
PM Modi flagged off the first Vande Bharat Express of Kerala on 25 April. Then for the first time he also spoke to the school children sitting in this train.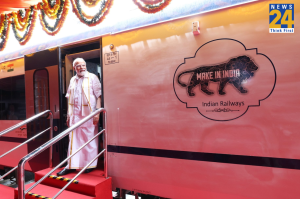 Vande Bharat targeted in other states as well
This is not the first incident of stone pelting on Vande Bharat Express. Even before this, stones have been pelted on Vande Bharat in other states. On January 20, the Howrah-New Jalpaiguri Vande Bharat Express was targeted by stone-pelters in Bihar. The incident took place near Dalkola station.
Stones pelted at recently launched Vande Bharat train in Kerala when it was passing through an area between Thirunavaya and Tirur in Malappuram district: Police

— Press Trust of India (@PTI_News) May 1, 2023
Can be jailed for five years
The South Central Railway had warned the stone pelters that stone pelting on trains is an offence. Action will be taken against the offenders under section 153 of the Railway Act. There is also a provision of imprisonment up to five years.
Read also: Brijbhushan Sharan Singh: Demonstration of wrestlers like Shaheen Bagh, how big a political wrestler Brijbhushan Sharan Singh is claiming?