Karachi Taliban Attack: Tehreek-e-Taliban (Pakistan) terrorists stormed and torched the office of the Karachi police chief on Friday. While retaliating, the security forces fired in which 9 people including five terrorists were killed.
According to media reports, four others, including two police constables, a Rangers personnel and a civilian, were also killed and 17 injured in the firing. According to local media reports, at least eight armed terrorists broke into the office of the police chief at Sharia Faisal in Karachi.
5 terrorists killed in retaliation
A senior security source said that five terrorists were killed during the action by the security forces. He said three people were killed in the encounter which lasted for some time while two blew themselves up. As security officials tried to evacuate the five-story building, explosions were heard from inside the police chief's office. The powerful explosion shattered windows of nearby buildings.
The building was cordoned off for about four hours. Several rounds of gunfire can be heard in the video from the spot. Meanwhile, Sindh government spokesman Murtaza Wahab said on Twitter that he can confirm that the Karachi Police Office (KPO) building has been evacuated. "Three terrorists have been gunned down," he said.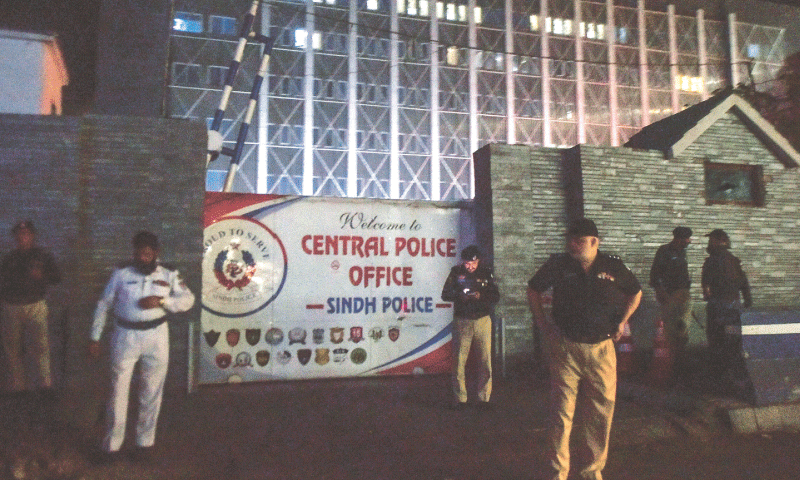 Apart from the death of 9 people, a total of 17 people were injured.
Four others, including two policemen, personnel of rangers and a civilian, were killed, while 17 others were injured, he said. According to local media reports, at least eight militants used hand grenades and automatic guns. After the attack, the Karachi Police and Pakistan Rangers cordoned off the area.
The Sadar police station, located next to the police chief's office, also came under attack. SHO Khalid Hussain Memon said an unidentified assailant attacked the Sadar police station near the Karachi police office. Please tell that Tehreek-e-Taliban Pakistan has taken the responsibility of the attack. Since the breakdown of a ceasefire agreement between the TTP and the government in November last year, militants have stepped up attacks on security forces and establishments and even on mosques and markets in different parts of the country.