Chhatriwali Review, Ashwani Kumar: Films have started taking responsibility. She has started explaining things which we desperately need to learn. Streaming on Zee5. 'Chhatriwali' (Chhatriwali) conducts a class on sex education, which should be taught compulsorily in schools, but is optional. About which it should be told in the homes, but there it has been silenced by putting a finger on the mouth.
The good thing is that at present big actors of the industry are doing films regarding sex education. Ayushmann Khurrana is teaching, now Nusrat Bharucha has also done a film named Jaari in Janhit and now big actress like Rakulpreet Singh has also joined this league. 'Chhatriwali' (Chattriwali) talks about condom use, abortion and birth control pills. She also gathers a crowd in her class, but does this class become interesting? This is a million dollar question.
Tejas Vijay Devoskar, who is stepping into the Hindi film industry from Marathi films, has chosen a good story, in which Sanya, a girl living in Karnal, who is BAC Chemistry, teaches tuition to children and despite being capable, is bereft of a job, He gets a job as the quality head in a condom factory. At first Sanya is apprehensive of even taking this job, then runs her job secretly under the guise of good income. In the journey between her love and marriage, from husband to this condom factory job place, she describes herself as the quality head of the umbrella factory. But what about the truth, it comes to the fore one day.
The second track of the story is that Sanya's Jethani, who has suffered multiple abortions and miscarriages, does not open her mouth to her husband to use condoms. Sanya tries to encourage her sister-in-law to ask her husband to use condoms, but sister-in-law challenges Sanya that the day every man in Karnal starts using condoms, she will talk to her husband.
Sanya persuades the women around to tell their husbands that if you want to love them, then accept the condom. But after Sanya is revealed to be working in a condom factory, she is rejected in her own home. Now Sanya has to explain about sex education and condom use along with the society. Sanchit and Priyadarshi tried their best to make this story interesting, also teach some very interesting chemistry formulas. Keep some good one liners as well, but the difficulty of such subjects is that no matter how much you save, the class starts getting boring. This is what happened with Chhatriwali.
Rukulpreet has given her whole life for Chhatriwali, she has also given a wonderful performance. Say that the life of the film is there. Apart from Sumit Vyas, he is a wonderful actor, he also supported Rakul very well. Satish Kaushik, who became the owner of a condom factory, is the third good reason for Chhatriwali. But then the character of Rajesh Tailang, Rakesh Bedi, Prachi Shah, Dolly Ahluwalia is like a traditional sketch, which is completely ineffective.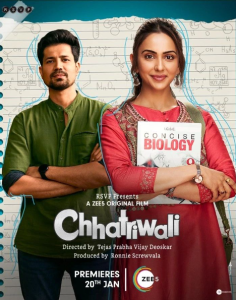 Chhatriwali is out now, streaming on ZEE5. The film is important, that's why it should be seen, the intention is right, that's why it should be seen, just in the process of teaching, it conducts classes and when it conducts classes, it becomes boring. But the class is boring, so it is not left and then it has come on OTT, so it must be seen.
2.5 stars to Chatriwali.
Related