New Delhi: The Central Bureau of Investigation (CBI) has issued summons to former Jammu and Kashmir Governor Satya Pal Malik. The summons has been issued to industrialist Anil Ambani to testify in the alleged corruption case by Reliance General Insurance. Malik has been summoned by the CBI to Delhi on 28 April.
Former Governor Satya Pal Malik said he has been called by the CBI to the agency's Akbar Road guest house in central Delhi for "some clarifications". Malik said that the CBI officials want some clarifications, for which they want my presence. I am going to Rajasthan, so I have given them dates from 27th to 29th April.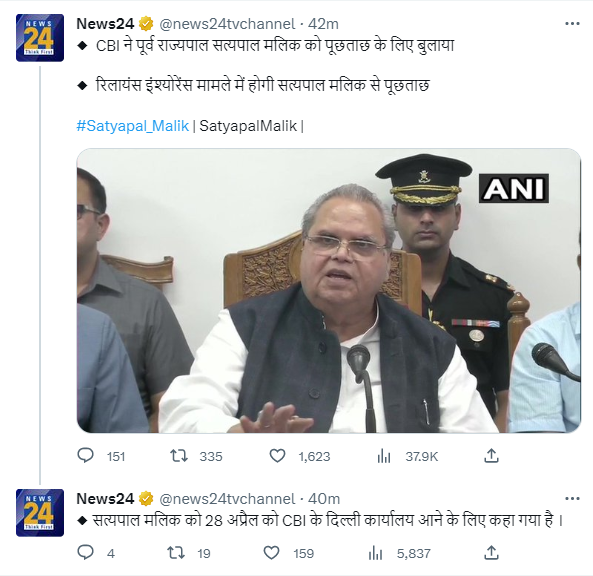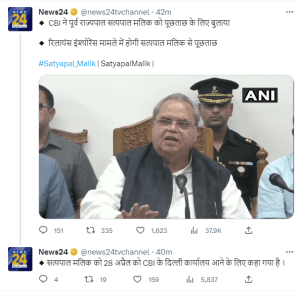 The tender of the insurance company was canceled in 2018
Actually, Satyapal Malik canceled a tender of Reliance General Insurance Company in 2018 while being the Governor of Jammu and Kashmir. CBI is investigating this matter. The CBI has named Reliance General Insurance as well as Trinity Reinsurance Brokers as accused in the first AFIR. It is alleged that these companies have made disturbances in the health insurance scheme for government employees and their families.
Malik's claim – I myself saw the file
Former governor Malik had alleged fraud in the insurance scheme, after which the CBI action took place. The scheme, covering around 3.5 lakh employees, was launched in September 2018 and was scrapped by Malik within a month. At that time Satyapal Malik had said that the state government employees wanted the contract to be cancelled. Malik had said that I myself went through the files and when I came to the conclusion that the contract was wrongly awarded, I canceled it.
Read also: Karnataka Elections 2023: Guru-disciple war in Hubli, veteran leader of both Lingayats, know what Jagadish Shettar said?