Amar Dev Paswan's report from Kolkata: BSF's 107th Battalion has got a big success on the Indo-Bangladesh border in Bangaon area of ​​Bonga police station in North 24 Parganas of West Bengal. BSF has recovered 23 smuggled gold biscuits worth Rs 1.43 crore, thwarting the plans of smugglers.
smuggler wanted to cross the border
According to the information, the soldiers posted on the border had received information that some smugglers are trying to bring a consignment of smuggled gold from Bangladesh to India. Under this, BSF jawans have already got ready on the border. Then he saw that a person was trying to enter the Indian border from Bangladesh with a packet in his hands.
23 gold biscuits recovered
Taking immediate action, the jawans tried to nab the person, but the accused smuggler escaped after throwing the packet into the Indian border. When the BSF jawans searched this bag, they found a packet. There were 23 gold biscuits in it, whose value has been estimated at one crore 43 lakh 57 thousand rupees.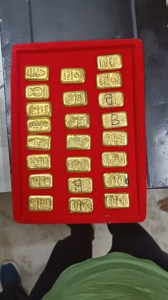 Gold worth two and a half million was caught on March 6
On the other hand, BSF has handed over the seized gold biscuits to the Customs Department for further action. Let us tell you that earlier on March 6, the 158th Battalion of BSF's Kalyani outpost had recovered 40 gold biscuits from the Indo-Bangladesh border, the value of which was said to be Rs 2 crore 64 lakh.