Kangana Ranaut: Bollywood actress Kangana Ranaut and her statements often take many people in their grip. This has happened once again. In her latest Instagram post, the actress has again targeted someone.
Actress Kangana Ranaut got angry on Bollywood couple
Bollywood actress Kangana Ranaut is known not only for her acting but also for her outspokenness. Often the actress keeps on targeting someone or the other through her post or statement. Something similar has happened once again. Recently, Kangana Ranaut Post has shared some posts on her Instagram stories, in which she has taken a class of a Bollywood couple. Although he has not taken the name of that couple in his post, people have guessed from his post that he has written this for Ranbir Kapoor and Alia Bhatt.
Fake couple told in insta story
In her post, Kangana Ranaut wrote, "In another news a fake husband and wife duo who live on different floors and pretend to be a couple, are spreading fake news about film announcements, which turn out to be fake news." Have not been there. Apart from this, she is telling the brand of Myntra as her own.
Further she says- "Also no one has written about how the wife and daughter were denied a recent family trip. While the so called husband was messaging me begging and pleading to meet me. This fake pairing needs to be exposed." For information, let us tell you that actor Ranbir Kapoor recently reached London to surprise his mother Neetu Kapoor on her birthday, but during this time Alia Bhatt and her daughter Raha were not present in that party.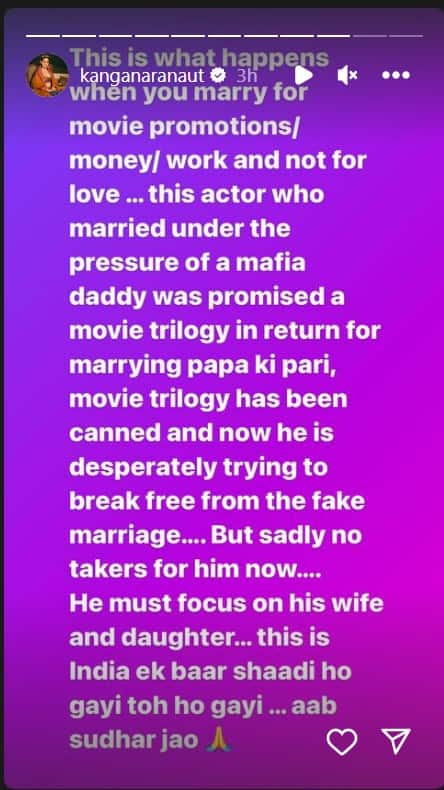 Also read: 'Satyaprem Ki Katha' doing well despite slow pace
couple's marriage was called fake
In her next post, Kangana says, "This is what happens when you marry not for love but for promotion, money or work. The actor, who got married under pressure from his mafia daddy, was promised a film trilogy in exchange for marrying Papa Ki Pari, and is now trying to break free from the sham marriage. But sadly, now that he has no takers, he must focus on his wife and daughter. This is India, once a marriage is done, it is done. Get better now."
Related