Asin Thottumkal: Asin Thottumkal, a well-known actress of the South Film Industry, is currently in discussion. In fact, for the last few hours, news of Asin's separation from her husband is going on. Meanwhile, the actress herself has come on social media and called all these news as rumours.
Actress fed up with the rumor of divorce (Asin Thottumkal)
For the last few hours, South actress Asin Thottumkal is trending. In fact, it is being claimed that now the relationship between the two has soured, after which Asin deleted all the wedding photos with her husband from her Instagram account. Seeing the news gaining momentum, Asin herself came forward and shared a long post about it on social media.
posted on instagram
Asin Thottumkal released a statement on her Instagram story, writing, "In the middle of our summer vacation, we were having breakfast together. During this we came to know about a very imaginary and baseless news. These things reminded me of the time when we were sitting in our house preparing for the wedding with our family and we got the news that we had broken up. Please do something good."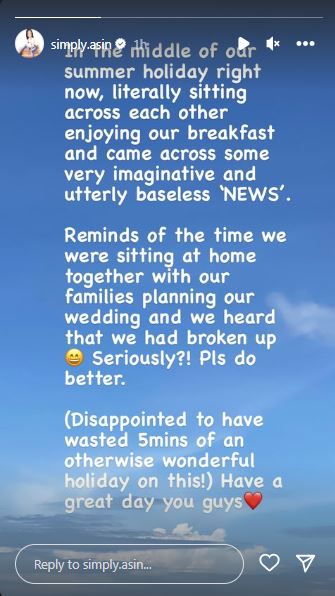 Asin (Asin Thottumkal) further wrote that I am feeling very dirty for wasting 5 minutes of this beautiful holiday. Now people are commenting fiercely on this post of Asin.
Had met during 'Housefull 2'
Let us tell you that Asin and Micromax founder Rahul Sharma first met in the year 2012, when the actress was going to Dhaka for the shooting of 'Housefull 2'. During this, actor Akshay Kumar got Asin and Rahul to be friends. Not only this, Akshay had advised Rahul and Asin to date. After this, Asin and Rahul dated each other for many years. Then in the year 2017, both of them got married. Today both have a daughter too.
Related