Shraddha Arya: These days Tibetan religious leader Dalai Lama is in headlines. Actually a video of him is going viral in which he is kissing a child. Many people objected to his video and reacted on social media. In this list, TV actress Shraddha Arya also expressed her opinion for which she is being trolled. Now the actress has to apologize to the people, which she has posted on social media.
Shraddha Arya apologized
Shraddha has posted a long post on her social media account in which she is seen apologizing to the people. The actress wrote in her Instagram story, 'Many people are writing hateful things on my page. I do not know you people and I have nothing against you, your religion. An act has been condemned and not any community, religion or place.
about the post
She further writes that if my choice of words was too harsh to criticize the incident, I apologise. Sadly, India is suffering from child abuse and it is already very heart breaking so the act or words that motivate child abuse is infuriating and unfair.'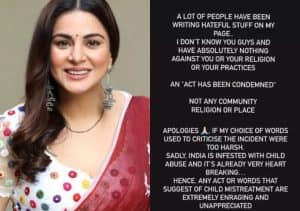 this is the whole matter
For your information, let us tell you that a few days ago a video of Dalai Lama came on social media. In this video, he was seen kissing a child on the lips. In this video, he is also seen asking the child to suck the tongue. Even the child himself becomes uncomfortable after hearing this. Which is clearly visible in the video. After this video surfaced, some people appeared against him and some in his support.
Related